Rotogravure Revelations: The Artistry and Agony of Diane Arbus


Beauty is not just in the eye of the beholder, it can be permanently infused by the will of the beholder as well. Certainly this was the case in the masterful humanist works of photographer Diane (pronounced Dee-Ann) Arbus.

Born on March 14, 1923 in New York City, Diane Nemerov's vision of the world was emotionally conditioned by her affluent Russian-Jewish parents. Her father, David, supported the family via his upscale clothing store, Russek's of Fifth Avenue, which he owned. The precocious Diane embarked on a "serious" relationship at age 14 with Allan Arbus, four years her senior. The two were wed just weeks shy of Diane's 18th birthday. Their first daughter, Doon, was born in 1945 when Diane was 22, and Amy nine years later, when the marriage was crumbling.

Allan, who had studied photography at the New Jersey Signal Corps photo school, was the first to teach Diane the basics of the craft. The couple launched their own business as fashion photographers, with Diane tending to duties as stylist and portfolio promoter. It was not until 1956 that Diane began working independently of her husband.




Studying further with noted photographers Richard Avendon, and most importantly, Lisette Model (her chief mentor) in 1959, Diane experimented with stylized portraitures. According to information posted at http://photography.about.com/library/weekly/aa110600a.htm, Diane's technique diverted from that of Models: "Photographically, both favoured medium format cameras that gave the standard square negative for the 120 format, but while Arbus always printed it full frame, often with messy edges to emphasize that it was uncropped, Model used often radical and dramatic cropping to give an impression of closeness to her subjects. Arbus interacted with her subjects to achieve a similar closeness, while Model usually worked candidly, manufacturing it later in the darkroom."

Diane chose people on the darker fringes of society as her subjects: "Freaks was a thing I photographed a lot. It was one of the first things I photographed and it had a terrific kind of excitement for me. I just used to adore them. I still do adore some of them. I don't quite mean they're my best friends but they made me feel a mixture of shame and awe. There's a quality of legend about freaks. Lke a person in a fairy tale who stops you and demands that you answer a riddle. Most people go through life dreading they'll have a traumatifc experience. Freaks were born with their trauma. They've already passed their test in life. They're aristocrats."



(A Jewish giant at home with his parents in the Bronx, NY (1970)

In 1963, and again in 1966, Diane received the Guggenheim Fellowship bringing her to the attention of John Szarkowski who paved the way for her first wide-range public exhibit at the Museum of Modern Art in 1964. The reactions to her work were mixed, swathed in controversy, serving only to spotlight her irreverant, oft-resplendently garish disregard for prescribed boundaries of tastefulness. Choosing to work exclusively in black and white, Diane's photos captured sublime moments of panic and desperation in each subject (even those smiling and seemingly joyous), as if she commanded the lens to unearth individual pathologies and psychoses.



(Child with a toy hand grenade in Central Park, NYC. 1962)

Diane began teaching photography at prestigious schools including the Parsons School of Design in New York and Hampshire College in Amherst, Massachusetts but in 1970 she
emerged from behind the camera to be scrutinized by the public's eye when a portfolio of 10 photographs created her first series of limited editions.

Existential isolation often permeated Diane's photos as evidenced by the following description of a particular work: "Her picture of 'Xmas tree in a living room in Levittown, L.I, 1963' has a bleakness that is frightening. Empty wall, empty carpet, empty ceiling are emphasized by the wide-angle view and their dull grey. The tree, loaded with baubles and tinsel, neatly wrapped presents in large boxes spilling around its base and out along the wall, appears to have been trimmed by a few feet to fit below the ceiling. To its left is a table lamp, with a shade that appears to be still in a plastic wrapping, to its right a clock in the centre of a large thin-pointed star (what should be on top of the missing top of the tree.) A TV set with a blank screen, and on it another clock. Levittown was the ideal American suburb, founded in 1947, described as 'a template for the way the American middle class would settle into the second half of the 20th Century; it was the setting for David Riesman's seminal 1950 study The Lonely Crowd."

On July 26, of 1971, Diane Arbus ended her life by swallowing a lethal dose of barbiturates and slitting both her wrists. She was at the top of the art world, directly engaged in the exploration of the limits of photographic art. Perhaps if the camera could have looked into the depths of Diane's psyche and reflected back to her what lay hidden she would have chosen differently.



(Girl in a Shiny Dress, NYC. (1967)

Following her death, Diane Arbus was the first American photographer to be exhibited at the Venice Biennale, in 1972. And in the absence of Andy Warhol, the late iconizer of pop imagery, film director Steven Shainberg (Secretary) is currently working with Oscar-winning actress Nicole Kidman on Fur, a widescreen Diane Arbus biopic (co-starring actor Robert Downey, Jr.) scheduled for release in late 2005. In the instance of the life of Diane Arbus it is only fitting that the photographer becomes the visual subject.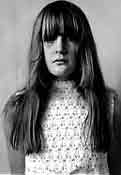 (Diane Nemerov Arbus as a child)