P. J. Soles: Riff Randell To The Rescue

("I think these pictures of me are like totally too small...like TOTALLY!")

For many fans of the 1978 feature film horror classic Halloween, actress P.J. Soles, in her role of "Lynda Van Der Clok", totally made the movie...like TOTALLY!

Pamela Jayne Hardon (now you can see why she chose to use the last name of her first husband as her professional moniker) was born on July 17, 1950, in Frankfurt, Germany. Her father, a native of Holland, worked for an international insurance company, thus P.J.'s formative years were spent largely in Belgium, Morocco, and Venezuela (which accounts for her fluency in Spanish).

P.J. was attracted to the acting profession as a child after participating in elementary school plays. According to an interview conducted by the staff at Fright (www.iconsoffright.com) "I played the witch in "HANSEL & GRETEL", and my dad made a special magic wand with a lightbulb at the end with a battery and a switch... my first real prop! It was a night performance, and we had a huge fake oven that they pushed me into, and my little brother who was only three thought that was the end me and he started screaming. I was very proud of my performances, because I beat out an eighth grader for the coveted weekend shows."

While attending Briarcliff College, P.J. wanted to become the first woman ambassador to the Soviet Union. But after the early death of a sibling P.J. didn't want to sacrifice years of her life in academia and so she left school. A secondary influence in her decision to leave college came with a visit to the Actors Studio in New York City. During P.J.'s Manhattan years she was married to musician/composer J. Steven Soles. The marriage ended when P.J. moved to Los Angeles to work in TV and movies.




Deciding to keep her professional/stage name as P.J. Soles, P.J. found herself among hundreds of actors auditioning for directors Brian De Palma and George Lucas in their joint casting session for Carrie (1976) and Star Wars (1977). P.J. readily secured the role of the pert, backstabbing busybody "Norma", in De Palma's 1976 blockbuster horror film Carrie, which led to the filming of Our Winning Season (1978) in Georgia where she met actor Dennis Quaid. P.J. and Quaid were married in 1978 in Texas (on a dude ranch).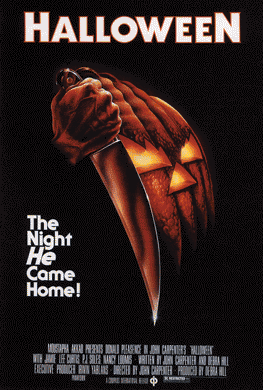 In the 1978 cult classic horror film Halloween, P.J. portrayed "Lynda Van Der Clok" (the last name springing from director John Carpenter's appreciation of P.J.'s dutch heritage) and earned the nickname "The Totally Girl" from her insertion of the word "totally" into just about every line of Lynda's ditzy dialogue. P.J.'s supporting stint in Halloween outshines nearly every contrived teen victim horror movie supporting role in cinematic history as she TOTALLY steals the show with lines such as "What's the matter, Bob, can't I get your ghost?" as the demonic Michael Myers disguises himself in a bedsheet, complete with Lynda's late boyfriend's glasses draped over his head. No doubt, everyone associated with the seven Halloween sequels which have followed over a span of 25+years, can thank P.J. Soles for helping establish this series as a landmark of horror cinema.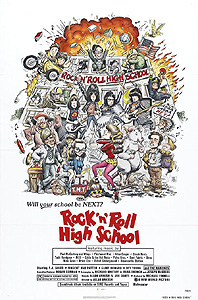 Well I don't care about history
Rock, rock, rock 'n' roll high school
'Cause that's not where I wanna be
Rock, rock, rock 'n' roll high school
I just wanna have some kicks
I just wanna get some chicks
Rock, rock, rock, rock, rock 'n' roll high school
Well the girls out there knock me out, you know
Rock, rock, rock 'n' roll high school
Cruisin' around in my GTO
Rock, rock, rock 'n' roll high school
I hate the teachers and the principal
Don't wanna be taught to be no fool
Rock, rock, rock, rock, rock 'n' roll high school


In 1979, P.J. Wowed cult director Roger Corman who cast her as the lead actress in his teen musical satire Rock 'n' Roll High School, which was a vehicle for the wildly popular recording group the Ramones. P.J.'s Rock 'n' Roll High School character, Riff Randell, is a kitchy combo of counter-culture/hyper-hormoned teen. Randell, who is obsessed with the music of the Ramones, would rather see them in concert than attend school. She pens the tune Rock 'n' Roll High School (("I just wanna have some kicks; I just wanna get some chicks"), for the Ramones. They love the song, become honorary Vince Lombardi High School students, and help Randell take over the school (which is finally blown to smithereens during a police raid). The film became one of the quintessential rock 'n' roll rebellion films of all time largely due to the engaging performance by P.J. Soles. P.J.'s vocal rendition of the title track was included on the soundtrack LP and later she was invited to sing the song onstage with the Ramones themselves.



(Vince Lombardi High's most vivacious vixen belts out the title tune Rock 'n' Roll High School during gym class)

Through her works in Halloween and Rock 'n' Roll High School, P.J. attracted the attention of top mainstream film directors such as Howard Zieff, who cast her as "Pvt. Wanda Winter" in the 1980 Goldie Hawn military comedy Private Benjamin, and Animal House director Ivan Reitman, who employed her services as "Stella" in the 1981 Bill Murray military comedy Stripes. When she and Quaid were divorced in 1983 P.J. continued appearing in numerous television and film roles, eventually marrying Skip Holm, the stunt pilot on The Right Stuff (1983). The marriage lasted until 1998 and produced a son named Sky (born in 1983) and a daughter named Ashley (born in 1988).




Horror fans heralded P.J.'s cameo appearance as "Madge Cronin", the overbearing mother of a crippled school student in the 1997 horror flick Uncle Sam, as her "return" to the big screen and to the genre which has given her cult status. The Cronin role, which lampoons her earlier turns as military characters in Private Benjamin, and Stripes, gained the attention of indie director Darren Stein who cast her as "Mrs. Purr" in the darkly comedic 1999 teen comedy/crime film Jawbreaker, starring alongside Rose McGowan, Pam Grier, and the ever-quirky Carol Kane.



(A Riff Randell ringer listens to the sounds of Local H)

A "second cult-comeback" occurred for P.J. when the music group Local H put out a 2004 P.J. Soles tribute LP (of sorts) entitled Whatever Happened To P.J. Soles?. The album also includes an individual track simply titled P.J. Soles.

"I think of PJ Soles
And wonder where you are
I never see you anymore
Where do you think they go?
All the fallin' stars
Heaven doesn't know you like I do"

The Whatever Happened To P.J. Soles? album cover features a mockup of the bedroom of movie character Riff Randell and a model passably posing as P.J. Soles from the film Rock 'n' Roll High School. According to writer Tom Bastian at www.decapolis.com: "Local H has moved away from their post-grunge alt-rock sound and has settled in on a sound that's a little more pop, a little more produced, yet still holds those elements of classic rock that many of the bands towards the end of the grunge era were incorporating." The changes are an attempt to honor the musical styles of the late 1970s period in which Rock 'n' Roll High School was filmed.

"I've always been a big fan of hers. Most of the movies she's been in at this point have a cult following. It's just something in the air that I tuned into," says guitarist/singer/bassist Scott Lucas when asked why he wanted to immortalize Soles. Enamoured with the bouncy actress since Rock 'N' Roll High School, he decided that maybe it was time she was honored.

"We [drummer Brian St. Clair, the other half of Local H] decided to name the record that before the song was even written," he says. "The concept came way before anything else. It's probably easier to just write something and figure out what the song's about later, but we knew exactly what we were looking for. We HAD to go for it." Whatever...a word that has become signature for an extended generation (running about 14 years now) which snarks at past pop culture. Note that the title of the Local H album is not WHAT EVER (two separate words) Happened To P.J. Soles?. So now we all TOTALLY know what happened to P.J. Soles. Whatever.

PJ SOLES FILMOGRAPHY:

The Second Line (2005) (announced) .... Celia Paulson
Death by Engagement (2005) (post-production) .... Mrs. Starkington
The Devil's Rejects (2005) (completed) .... Susan
Kept (2001) .... Celia
... aka Playback (USA)
Blast (2000) .... Deputy
Mirror, Mirror IV: Reflection (2000) .... Annika's Mom
... aka Mirror, Mirror 4: Reflection (USA: MIFED title)
Jawbreaker (1999) .... Mrs. Purr
Uncle Sam (1997) .... Madge Cronin
Little Bigfoot (1997) .... Carolyn
Out There (1995) (TV) .... Religious Nut
The Power Within (1995) .... Mrs. Applegate
... aka Power Man
Shake, Rattle and Rock! (1994) (TV) .... Evelyn Randall
Soldier's Fortune (1992) .... Debra
... aka Soldiers of Fortune (USA)
Alienator (1989) .... Tara
B.O.R.N. (1988) .... Liz
... aka Merchants of Death
Saigon Commandos (1987) .... Jean Lassiter
Sweet Dreams (1985) .... Wanda
Listen to the City (1984) .... Sophia
Innocent Prey (1984) .... Cathy Wills
The Other Woman (1983) (TV) .... Mary Louise
Sawyer and Finn (1983) (TV) .... Becky Thatcher
The Awakening of Cassie (1982) .... Cassie
Stripes (1981) .... Stella
Private Benjamin (1980) .... Pvt. Wanda Winter
Soggy Bottom, USA (1980) .... Sharlene
... aka Swamp Rats
Rock 'n' Roll High School (1979) .... Riff Randell
Breaking Away (1979) (as Pamela Jayne Soles) .... Suzy
Old Boyfriends (1979) .... Sandy
Halloween (1978) .... Lynda
... aka John Carpenter's Halloween (USA: complete title)
Zuma Beach (1978) (TV) .... Nancy
Our Winning Season (1978) .... Cindy Hawkins
Alexander: The Other Side of Dawn (1977) (TV)
The Possessed (1977) (TV) .... Marty
The Boy in the Plastic Bubble (1976) (TV) .... Deborah
Carrie (1976) .... Norma Watson
Blood Bath (1976)
Sport (1976)
"Love Is a Many Splendored Thing" (1967) TV Series .... Unknown (1973)

MISCELLANEOUS CREW:

Halloween: A Cut Above the Rest (2003) (TV) (still photographer)
Rock 'n' Roll High School (1979) (singer)

PRODUCER- filmography

B.O.R.N. (1988) (associate producer)
... aka Merchants of Death

APPEARING AS HERSELF:

Scream Queens: The E! True Hollywood Story (2004) (TV) .... Herself
Stars and Stripes 1 (2004) (V) .... Herself
Stars and Stripes 2 (2004) (V) .... Herself
Super Secret Movie Rules: Slashers (2004) (TV) .... Herself ("Lynda" - Halloween)
... aka SSMR: Slashers (USA: short title)
Halloween: A Cut Above the Rest (2003) (TV) .... Herself
Acting 'Carrie' (2001) (V) .... Herself
'Halloween' Unmasked 2000 (1999) (V) .... Herself

NOTABLE TV GUEST APPEARANCES:

"Knight Rider" playing "Ellen Whitby" in episode: "Out of the Woods" (episode # 4.14) 17 January 1986
"Hardcastle and McCormick" playing "Ellen Styner" in episode: "Something's Going on on This Train" (episode # 3.4) 14 October 1985
"Simon & Simon" playing "Martie Collins" in episode: "Our Fair City" (episode # 4.10) 29 November 1984
"Airwolf" playing "Ellie" in episode: "HX-1" (episode # 2.8) 10 November 1984
"Cheers" playing "Julie" in episode: "Rebound: Part 2" (episode # 3.2) 4 October 1984
"Simon & Simon" playing "'Crazy Susan' Sackwell" in episode: "D.J., D.O.A." (episode # 3.2) 6 October 1983
"The Blue Knight" playing "Minnesota" in episode: "Upward Mobility" (episode # 2.3) 13 October 1976



(Lynda explains to Michael Myers why she doesn't want a neck rub: "I can't believe it! We have three new cheers to learn in the morning, I have to get my dress ready and my hair done in the afternoon, the game is at six, and the dance is at eight! I'll be totally wiped out! Totally!")